Here is all you need to know about the equipment provided in our blood test kit.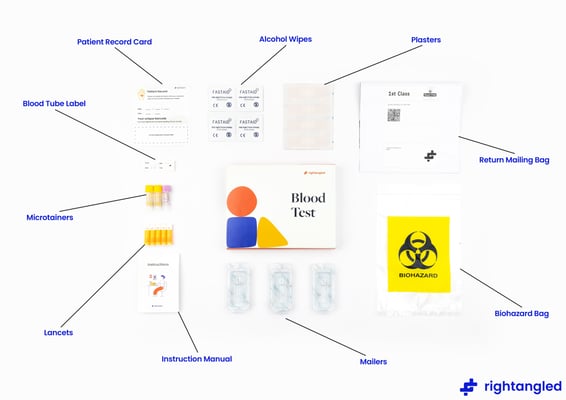 Kit Box
Your kit box has everything inside to ensure you complete and send your sample(s) off to our partnered lab.
Alcohol Wipe
To use before pricking your finger to ensure a clean and sterile sample.
Plasters
These medical purpose plasters are for you to use after you have collected your sample.
Lancets
Your kit will contain a number of lancets. The lancets are single use only!
Tubes/Blood Vials
You will receive a tube(s) to collect your blood sample.
Within your kit, you can receive either a yellow or purple blood collection tube. Sometimes, you may even have both, this depends on the type of blood test you are taking.
Tube Mailer
The tube casing will protect your sample on its route to the lab. It also contains an absorbent material to ensure the full safety of your sample.
Biohazard Bag
The biohazard bag is a biological substance envelope to add an extra layer of safety when transporting substances to our partner laboratory.
Instructional Manual
Our instructions manual is easy to follow and will help you prepare, collect, and send off your sample to the lab.
Return Mailing Envelope
The kit box also contains a prepaid return envelope which ensures your sample is collected and delivered to our partnered lab safely by Royal Mail.
If you have any questions, please contact us via support@rightangled.co where one of our customer service agents will be only too happy to assist you further.