Follow these simple and easy steps to register your kit and create your account.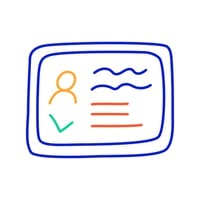 Once you have received your kit at home, it's time to get started!
In order to view your final results, you will need to register your kit and complete a questionnaire. This should be done at the same time when you're taking your sample, so here are the steps:
Go to www.rightangled.co and click 'Register Kit'
Enter your barcode
Create an account
Complete the questionnaire
Take your sample and return it to the lab
---
Step 1: Go to our main website page www.rightangled.co and click 'Register Kit' that is located at the top right corner of your screen. This should take you to the next page https://auth.rightangled.co/PatientRegistration/RegisterKit
Step 2: Once here, enter your unique 13 digit alphanumeric code that can be found on both your kit and biohazard bag. Click 'continue' after entering your 13 digit code
Step 3: You will now have to create an account by filling out your name, email, and password. You can also choose to proceed with Google Authentication; your details will then be filled out automatically and linked to your Google account. After filling out these details, you'll have to provide your address. Next, you will see our terms and conditions — have a read through these — and if you wish to proceed click 'Accept & Continue'
Step 4: The last step of the registration process requires filling out the questionnaire. Your health questionnaire will be used in conjunction with your sample results to analyse and generate your final report so that it can be reviewed by a Medical Specialist for a tailored and actionable report that is suited for you.
Step 5: It's now time to take your swab and send it off to the lab so they can start analysing it. Please make sure that, when taking your sample, you follow the instruction manual enclosed in your kit step by step
You're now all set!
You will receive an email notification informing you when the lab has received your sample, and when your results are ready to be viewed on your account.
Please note:
If you are taking a DNA test, allow 3-4 weeks from the sample's point of arrival at the lab to receive your results.
If you are taking a Blood test, allow 5-7 working days from the sample's point of arrival to receive your report.
If you are taking a Covid-19 test, allow 48-72 hours from the sample's point of arrival to receive your results.
If you have any questions, please contact us via support@rightangled.co. where a member of our customer service team will be happy to help.